Billions for a US-Mexico border fence, but is it doing any good?
The cost for adding 600 miles of new barriers is $2.4 billion so far. The new fencing has been breached more than 3,000 times, a government report finds.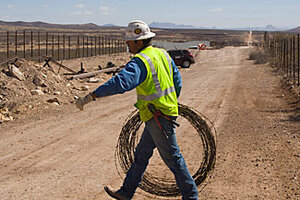 Robert Harbison / Special to The Christian Science Monitor / File
Some $2.4 billion has been spent since 2005 on a still-unfinished project to erect more than 600 miles of new fence along the US-Mexico border – a finding that is being met with surprise, anger, and consternation by immigrant groups and at least some border residents.
A report, released Thursday by the Government Accountability Office (GAO), also says $6.5 billion will be needed to maintain the new fencing over the next 20 years. So far, it has been breached 3,363 times, requiring $1,300 for the average repair.
The US Border Patrol, for its part, agrees with some findings but says several conclusions are unknowable because building the wall has no precedent. And the agency defends the new fencing as effective at deterring illegal immigration.
The report has stirred a range of reactions.
"When our nation is in the midst of an economic crisis, we wonder how many teacher salaries, police officers, miles of road, or school books could be financed instead of throwing large amounts of money for bricks to fix a problem that requires serious, long-term solutions," says Angelica Salas of the Coalition for Humane Immigrant Rights of Los Angeles, in a statement.
Dawn Garner, who lives on a ranch on the US-Mexico border in Naco, Ariz., says spending is so high because workers who are building the fence use local hotels for accommodations and food.
---