ACORN scandal: How much federal funding does it get?
The House and Senate moved this week to cut off federal money to the community organizing group now mired in controversy.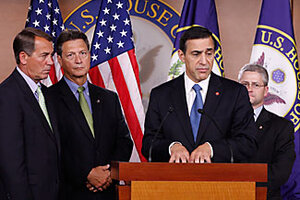 Harry Hamburg/AP
Congressional moves to block federal funds to ACORN are unlikely to have a big financial impact on the controversial community organizing group because it doesn't get much funding from the federal government. But the gesture's ripple effect – in influencing states and charities to also cut off funds, for instance – could eventually hit the group badly.
US House lawmakers on Thursday trumped a Senate move to keep federal housing dollars from the Association of Community Organizations for Reform by voting to block all federal funds to the group. Now Republican Senators are also preparing a similar bill.
The moves follow the release of a series of video tapes that show ACORN employees giving advice to two undercover conservative activists about how to hide money from their prostitution ring.
According to a Congressional report, the group has received $53 million in federal funds since 1994. But the nonpartisan Politifact.com reported in May that most of that money went to the ACORN Housing Corporation, one of the group's many affiliates.
The moves by the House and Senate would have minimal impact financially on the group, says ACORN CEO Bertha Lewis.
"Fortunately, ACORN derives most of its income from its members and other supporters, so the decision will have little impact on overall operations. The only real victims of today's vote are the families who have benefited from ACORN's important work," she said in a statement.
Ripple effect
ACORN may be able to afford losing the federal dollars, but the backlash is now filtering down to states where the group receives funding.
---