Vikings vs. Packers: Favre makes Monday night pure theater
Former Packer Brett Favre faces his former team for the first time. Beloved and besmirched since joining the hated Vikings this summer, football's Falstaff is unfailingly entertaining.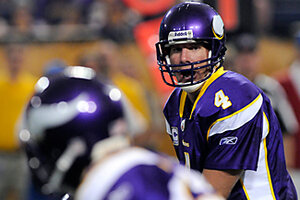 Jim Mone / AP
Brett Favre has been the Falstaff of football this year.
To his critics who didn't like his coming out of retirement to play for the Minnesota Vikings, he embodied everything odious about the Shakespearean character – old, selfish, vainglorious. But others have appreciated the traits that made Falstaff likable: his humor, his joviality, his childish enthusiasm, his free spiritedness.
And, yes, Favre can still be as deft with the football as Falstaff with words. "The world's my oyster," the portly prince famously said. Modern translation: Favre hurling a 32-yard touchdown pass with two seconds left on the clock to give the Vikings a dramatic win over the San Francisco 49ers last week. (Watch it here.)
All this is relevant because the Vikings' matchup against the Green Bay Packers tonight on national TV is more than a sporting event. It has become pure theater.
This is an epic clash between two ancient football rivals. It pits two teams on the rise in the NFC North division. It features undeniable stars, like Minnesota running back Adrian Peterson, a human cruise missile. (This video is not a fake.) And it is being played out on a stage that is the modern equivalent of Shakespeare's Globe Theater: Monday Night Football.
---