Is this the year - at last - for the New York Yankees?
It's been nine years since the Yankees' last World Series title – an eternity for New York. But the Yanks are well positioned to make amends, starting Wednesday against the Minnesota Twins.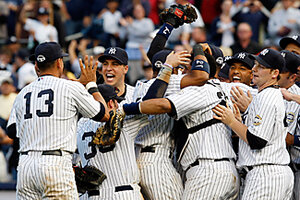 Mike Segar / Reuters
Every time a New York Yankee wins a game in the ninth inning, he gets rewarded with a pie in his face during the postgame on-the-field TV interview.
Splat!
So far, that's happened 15 times – the most in the major leagues. And having the confidence to come from behind is just one reason the most storied franchise in baseball history is a leading contender to bring another ticker-tape parade to Broadway.
The Yankees finished the regular season with the best record in baseball, giving them home field advantage at their new $1.5 billion stadium throughout the playoffs. The team is oozing swagger.
Surprisingly, baseball's biggest team has been distinctly short on swagger in recent years. Last year, the team did not make the postseason for the first time since 1993 – the season before the strike. For "The Boss," owner George Steinbrenner, who has opened his wallet to the tune of $1.5 billion on salaries since 2001, anything short of that confetti-filled trip to City Hall is not a success. Dallas may be a football town and Detroit a hockey mecca, but New York thinks of baseball as its sport.
"It's really different in New York," says Joel Fish of the Center for Sports Psychology in Philadelphia. "In sports in general, people ask, 'What have you done for me lately?' In the case of the Yankees, they ask, 'What have you done for me today?' "
Since 2000, the answer has been "nothin', nada" – not a single World Series title.
---