Obama Nobel Peace Prize: an award for vision if not accomplishment
2009 Nobel Peace Prize to Obama reflects European appreciation for his cooperative, engaged approach to world politics.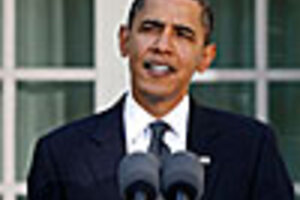 Jason Reed/Reuters
A vision for approaching the world's major conflicts through dialogue and engagement rather than confrontation – one seen to contrast starkly with that of the previous American president – won US President Barack Obama this year's Nobel Peace Prize.
In announcing its surprise decision, the Norwegian Nobel Committee cited Mr. Obama's "extraordinary efforts to strengthen international diplomacy and cooperation between peoples." The word "efforts" hints at the view from around the world – from laborers in Baghdad to world leaders – that awarding the prize to an American president in office just nine months was recognition more of Obama's aspirations than of any particular accomplishments.
The award, which caught the White House off guard, reflected a particularly European appreciation for Obama. After what Europeans widely called a dark period for America under President Bush, they see Obama as a leader who is returning the United States to a place of global leadership in challenges such as nuclear disarmament, the West's relations with the Islamic world, and climate change. "Thanks to" Obama, the committee said, "the USA is now playing a more constructive role" in international diplomacy.
---