In Singapore, shopping for a hospital
Hospitals are required to post the average billing cost of operations and treatments for everything from strokes to fevers.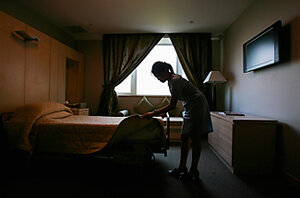 Nicky Loh / Reuters
Shopping is a national pastime in this wealthy city-state and a bit of the retail culture is helping the government hold down hospital costs – at a time when much of the world is searching for an antidote to rampant healthcare spending.
One of Singapore's secrets: compulsory publication of the cost of hospital procedures. It has turned having a hip replacement into something similar to buying a pair of shoes.
Authorities require both public and private hospitals to post the average billing cost of operations and treatments for everything from strokes to fevers.
The figures can be detailed. They will list, for instance, how many appendectomies were performed in the "Class A ward" – a private air-conditioned room where the treatment is privately funded – at Singapore General Hospital. It will give the average length of stay for the operation and the median bill. It will also list the same details for those performed in the "Class C ward" – one with eight to 10 beds per room and no air conditioning.
The idea behind the system is to give consumers some choice as well as encourage competition among hospitals. Begun in 2003, the unusual scheme also makes the hospital billing structure transparent so authorities can monitor costs from year to year. Dr. Wong Chiang Yin, who has studied the system, estimates that it contributed to a 4 to 11 percent reduction in individual treatment costs between 2004 and 2005.
One drawback: The listings say nothing about quality of care, only pricing.
Still, the plan is one reason Singapore's healthcare system is often ranked as one of the more efficient in the world. Its total annual health expenditure represents 4 percent of gross domestic product (GDP) versus 15.3 percent in the US. Singaporeans enjoy good health, too. The country had the 12th highest life expectancy (81 years) and second lowest infant mortality rate in the world in 2008, according to the World Economic Forum's global competitiveness report.
---