Colorado went to huge lengths to save balloon boy Falcon Heene
The National Guard deployed helicopters and Denver airport delayed flights thinking Falcon Heene was in a runaway balloon. He was safe at home the whole time, but many questions remain unanswered.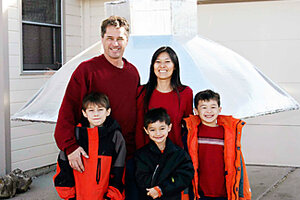 ABC/Reuters
Colorado National Guard Col. Chris Petty was preparing to board his Black Hawk helicopter Thursday afternoon for what could have been a rescue attempt straight from the screens of Hollywood.
There had been talk of suspending someone beneath the helicopter in a desperate bid to save a boy who was reportedly trapped in an experimental helium balloon flying thousands of feet above the Colorado plains.
Then, word came: Six-year-old Falcon Heene was not in the balloon, as his brother had insisted to police. Instead, he was found hiding in a box above the Heene's garage in Fort Collins.
What would Petty have to say to the boy, the Associated Press asked: "I'm really glad you're alive, I'm very thankful, but I'd sure like to know the rest of the story."
So would the rest of America.
Nine-year-old Ryo Heene's conviction, repeated several times to the police, that his brother was in a box suspended beneath the shiny flying saucer being tracked (dare we say) falcon-like by news helicopters set momentous events in motion.
• Denver International Airport stopped all northbound flights from 1:00 to 1:15 p.m. local time.
• Search teams – including officials on horseback and ATVs – were dispatched to the Heene's neighborhood and to a nearby airport where eyewitnesses said they saw something falling from the Odd Flying Object.
---