Are America's prisons incubating radical Islamists?
Recent domestic terror suspects had converted to Islam while in prison. Experts are divided on the extent of the threat.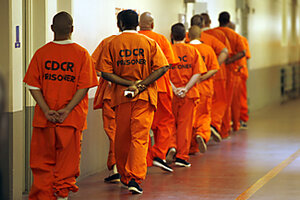 Tony Avelar/The Christian Science Monitor
Radical Islam spreads many ways. Through jihadist chat rooms and via fiery sermons, Islam's violent fringes seek newcomers to fight in the name of Allah. Now, evidence is mounting that American prisons, where about 35,000 inmates convert to Islam annually, are cause for concern, too.
Experts disagree over how fertile the ground is for prison radicalization, but the list of worrisome cases is growing.
•In 2005, federal agents thwarted attempts by a Muslim prison gang in California to attack synagogues and military sites.
•In 2008, a Seattle barber and prison convert was killed while fighting with Al Qaeda militants in Somalia.
•In May, four ex-­convicts in New York were charged with plotting to strike Jewish targets.
•Last month, a red-headed Midwesterner named Michael Finton, who reportedly converted to Islam in an Illinois prison, was arrested on suspicion of attempting to blow up a federal courthouse in Springfield, Ill.
Mr. Finton and the others are a tiny minority of some 240,000 American inmates who've converted to Islam since 9/11. But since 2001, counterterrorism officials have stepped up efforts to identify and disrupt what FBI Director Robert Mueller recently called "pockets of radicalization" in state and federal prisons.
---