Court ruling on L.A. pot ban could prompt stronger regulation
L.A.'s temporary ban on pot dispensaries is invalid, said a judge Monday. That could force the city council to a pass more permanent ordinance to regulate the boom in medical marijuana dispensaries.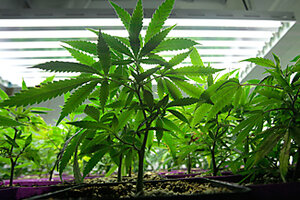 Ted S. Warren/AP
A court ruling Monday that L.A.'s ban on new medical marijuana dispensaries is invalid could have a ripple effect on other California cities. Sacramento and Santa Cruz officials say they may rethink the moratoriums they're considering on dispensaries in their own cities.
L.A. did not follow state law when it extended its initial 2007 moratorium, said Superior Court Judge James C. Chalfant Monday, issuing preliminary injunction against enforcement of the ban. "The city cannot rely on an expired ordinance," he said, according to the Los Angeles Times.
The L.A. City Council extended the moratorium twice since 2007, most recently this summer, while it tried to write a permanent ordinance to regulate the dispensaries in place of the moratorium, a temporary ban. The recent ruling may now pressure the council to finally pass an ordinance.
The ruling was issued in a case against the ban brought by the Green Oasis dispensary, but the city has been sued by several dispensaries in recent months. The number of medical marijuana dispensaries has boomed from 183 in 2007 to 800 this year, and police had moved to shut down many of them, citing complaints from neighbors over inadequate oversight.
"We just think they attract the wrong kind of people," says Nadia Egbert, who lives blocks away from the New Liberty Bell Temple, near Dodger Stadium in downtown L.A. The smell of marijuana wafts out the front door of the dispensary as patients walk in and out to purchase different strains of cannabis. Many residents also worry that many medical pot consumers are not genuine patients.
---