Jeff Fisher Peyton Manning jersey stunt an act of desperation
Being 0-6 and losing 59-0 Sunday means that for proud Titans coach Jeff Fisher, Peyton Manning's jersey was one way to 'feel like a winner.'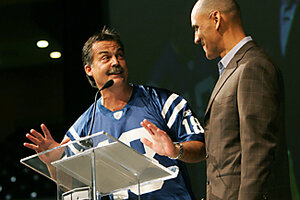 Sanford Myers/The Tennessean/AP
For Jeff Fisher, Peyton Manning's jersey has come to signify the desperation now pressing down on one of pro football's finest coaches.
Tuesday night in Nashville, Fisher donned an Indianapolis Colts Peyton Manning jersey to introduce former Colts head coach Tony Dungy at an event. The Colts and Titans could not yet be called archrivals, yet as division rivals – and typically the best two teams in the AFC South – few games are as anticipated in Nashville and Indianapolis as Colts-Titans matchups.
Which made Fisher's appearance onstage – in Nashville – wearing a Colts jersey something on the order of President Obama showing up at a Democratic Party fundraiser with an "I love Glenn Beck" lapel pin.
True, Dungy is one of the gentlemen of pro football – Fisher's gesture could not have been made to a more respected colleague.
But Dungy no longer works for the Colts, he's an analyst for NBC. Did Fisher consider getting an NBC Sports windbreaker? That probably would not have warranted its own YouTube video.
---