North America's tiniest dinosaur weighed less than a toy poodle
The tiny dinosaur, unearthed in Colorado and named Fruitadens haagarorum, measures 29 inches from beak to tail and weighs less than two pounds.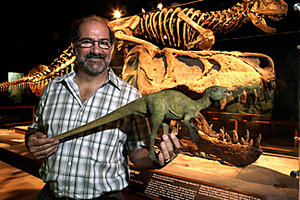 Reed Saxon/AP
From a rock formation near Grand Junction, Colo., comes a tale of a dainty dinosaur.
Meet Fruitadens haagarorum, though it might as well be called Fifi. It's roughly the length of a toy poodle and a fraction of its weight.
It's the smallest dinosaur ever found in North America, according to an international team of scientists formally describing the creature this week. It stretches some 29 inches from beak to tail. In its day, it would have weighed in at just under two pounds.
The fossil remains of six of these animals have been languishing in storage at L.A.'s Museum of Natural History since they were unearthed between 1979 and the early 1980s. The creatures represent the latest examples of a broader group of prehistoric animals that are proving to be far more diverse than many people realized.
Fruitadens is the smallest known member of a group of dinosaurs known as ornithischia – bird-hipped dinosaurs that include behemoths such as Stegosaurus or Triceratops. For the most part, this group has been tagged as "plants eaters."
From what scientists can tell from the 150 million-year-old fossil's teeth, however, Fruitadens wasn't picky. It ate whatever it could find – veggies or meat.
---