Northwest Airlines flight leads to probe of pilot professionalism
The FAA is working on new rules regarding fatigue and other aspects of pilot conduct in the cockpit.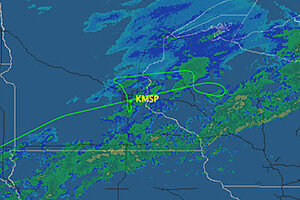 FlightAware.com/AP
A commercial airline overshoots its destination by 150 miles? Have you ever heard of such a thing? Well, yes actually.
Investigators are probing the mystery of how Northwest Airlines Flight 188 overshot Minneapolis by so far on Wednesday night. But the incident joins other recent cases that have drawn attention to issues of flight-crew professionalism and alertness on US airlines.
The prominent examples include:
•Last year, two pilots for "go!", a subsidiary of Mesa Airlines, fell asleep during a mid-morning flight from Honolulu to Hilo, Hawaii. Traffic controllers finally got through to the pilots, and the plane landed safely.
•Continental Connection Flight 3407, a flight operated by Colgan Air, crashed near Buffalo in February, killing 49 passengers and one person on the ground. Crew fatigue, distracting banter in the cockpit, and lack of training or experience may have played roles in the crash, along with wintry weather.
---