Long to-do list for new US parks chief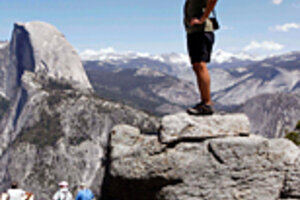 Melanie Stetson Freeman /staff/file
Yellowstone National Park, Wyo.
Jonathan Jarvis assumed the helm of America's national parks this month, but not before he made two important pilgrimages.
The first was to the home of 19th-century conservationist John Muir, in Mar­tinez, Calif. "I stood under the trees Muir planted and hoped some of his wisdom would find me in the shade," Mr. Jarvis says of the man who helped turn national parks into a worldwide phenomenon.
The second was to Yosemite National Park, where the new park service director, his wife, and two adult children made an arduous trek up the back side of Half Dome ridge. No rangers were allowed to accompany their new boss and smooth his way to the top, per edict of daughter Leah. Each one lugged his or her own pack.
The kids wanted some "private 'dad time,' " Jarvis recalls in a phone interview, "and they didn't want me talking shop" with park personnel. The Jarvis family regards camping trips almost as sacred events. "I guess we're really no different from millions of other families."
That reverence for the vision of yore and for having a national park system available to all Americans today, rich or poor, is what has inspired this 32-year veteran of the National Park Service in making his own career ascent. He'll no doubt draw on it now as he begins to address pressing challenges facing the park system: sagging morale among some 22,000 grayish-green-clad civil servants out in the field, how to bring appreciation for the national parks to urban dwellers, and the need to catalog the effects of climate change on the parks, to name only a few.
---