Student 'proficiency': What is your state's definition?
State standards and 'proficiency' measures vary widely, according to a new study from the National Center for Education Statistics.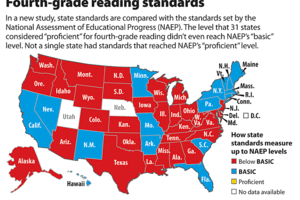 Rich Clabaugh/Staff
How advanced a student is may have more to do with where he lives than how much he knows.
Under the No Child Left Behind Act, states are under pressure to bring more students up to "proficiency" every year. But each state can define what proficiency means differently.
A new report shows just how widely these definitions vary.
"A proficient reader in State A may be very different from a proficient reader in State B – even though those students may have the same academic skill," says Peggy Carr, associate commissioner for assessment at the National Center for Education Statistics (NCES), which released the study Thursday.
The study aims to provide useful comparisons among the state standards. To do so, it put states' data on test scores into the system used by the National Assessment of Educational Progress (NAEP) – a common national test that is often referred to as the "Nation's Report Card."
What this shows is that states are all over the map when it comes to what they expect their students to learn.
Particularly lax are fourth-grade reading standards: The level considered proficient in 31 states didn't even reach the "basic" level on NAEP. Not a single state had standards that reached NAEP's "proficient" level.
Mississippi, the state with the least-rigorous standards, considered students to be proficient at a NAEP score of 163, while Massachusetts, at the top, in effect set the bar at 232. That's a range of 69 points. (NAEP itself put the proficiency level at 238.)
---