LAPD chief Bratton leaves a police force transformed
Bratton, who ends his tenure at the LAPD this week, is credited for reinventing a police force once known for brutality and corruption, and bringing down crime to historic lows.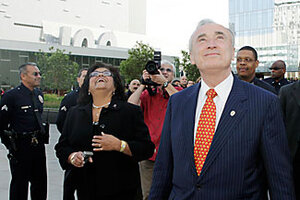 Reed Saxon/AP
When he was selected to head the Los Angeles Police Department (LAPD) in October 2002, William Bratton was one of the most successful names in American policing being asked to turn around one of the nation's largest and most troubled police departments.
Seven years later, Mr. Bratton ends a tenure that has seen crime drop 30 percent and a police force transformed.
"Los Angeles' police force is better trained, more diverse, better disciplined and better led than the one that betrayed the city's trust in 1992," The Los Angeles Times declared. "Its work is appreciated by residents across racial lines. Its record, though not perfect, is far less inflammatory and far more constructive."
It's a view shared among neighborhood leaders and police watchdog groups.
The fact that three possible successors to Mr. Bratton all come from the LAPD itself – announcement of the mayor's choice from the three finalists could come as early as Monday – is further tribute to Bratton's success in turning around decades of entrenched dysfunction, say national watchdog groups. That includes charges of racism that have strongly divided this city in incidents from the Rodney King riots to the altercations surrounding the O.J. Simpson verdict – and that Bratton has helped to bury.
---