Why can't Green Bay get over Brett Favre?
The return of Brett Favre to Green Bay Sunday as a member of the archrival Minnesota Vikings has prompted mayoral attention and a mock funeral. Then again, in Green Bay, football is family.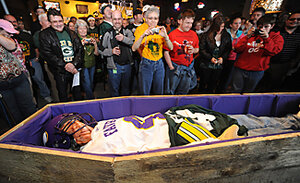 Jim Matthews/ The Green Bay Press-Gazette/ AP
When Brett Favre returns to Lambeau Field on Sunday to take on the Green Bay Packers, it won't be much of a homecoming. He will be like a wheel of Vermont cheddar in a Wisconsin dairy case.
True, Favre maintains loyal fans in the city he played and was canonized in for 16 years. You can still find people wearing the familiar Favre jersey, in both the politically correct green and gold and the traitorous new purple of the Minnesota Vikings. Many will always remember the grit, leadership, and, most important, the Super Bowl trophy he helped bring to "Titletown."
But others feel a biblical sense of betrayal from the man who tearfully retired from the Packers two years ago and is now returning with Viking horns on his helmet. Leif Ericson probably never confronted a storm more intimidating.
Yes, Favre did try to rejoin his former team shortly after his emotional farewell, only to be rebuffed by Packer management, which said it wanted to move on. Yes, Farve did come back to play last year, but it was for the New York Jets – who cares? His return as the quarterback of the archrival Vikings is like Joe Biden resigning and then becoming executive producer for Rush Limbaugh. (Actually, has anyone seen Joe lately?)
---