Fort Hood shooting suspect: a man of contradictions
Quiet and averse to weapons training, the suspect in the Fort Hood shooting is a study in contradictions. Scale of attack points to premeditation.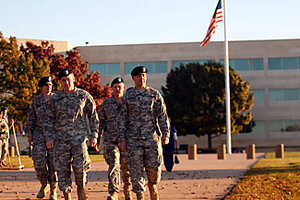 Jessica Rinaldi/Reuters
He is a bookish loner – a soldier who did not like going to the firing range. Coworkers remember him as quiet and inoffensive, yet he had problems with job performance and may have posted inflammatory comments on the Web using the screen name "NidalHasan."
Then, at some point, for some reason, Maj. Nidal Malik Hasan snapped, and he became an all-too-common American archetype: the disturbed single gunman who carries out a mass shooting.
"The whole nation is grieving right now," said President Obama on Friday.
Mr. Obama said he had ordered flags at the White House and other federal agencies to be flown at half-staff as a tribute to those who lost their lives. He also said it is important for the US to not jump to conclusions, and to carefully investigate the tragedy at Fort Hood in Texas.
On Friday morning, more information began to emerge about Army Major Hasan and his rampage, but the picture of him portrayed by authorities so far remains a shadowy one, filled with contradictions.
The most basic contradiction may be this: Trained as a psychiatrist to help soldiers overcome the effects of violence, he perpetrated violence himself.
"I'm not aware of any problems here," said Col. Steven Braverman, the hospital commander at Fort Hood. "We had no problems with his job performance."
On Friday, FBI agents searched Hasan's apartment near the base for clues as to what might have led to a shooting that left 13 dead and 30 wounded. They seized his computer and sifted through materials left in his vehicle.
A neighbor of Hasan's told the Associated Press that the major cleaned out his apartment Wednesday morning and told her he would be deployed on Friday.
---