Fort Hood suspect: Portrait of a terrorist?
Ties surface between chief suspect in the Fort Hood rampage and a jihadist cleric in Yemen, giving impetus to arguments that the tragedy was a terrorist act.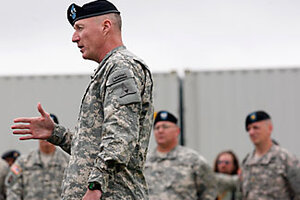 Jessica Rinaldi/Reuters
The possibility that the Fort Hood shootings are both "an isolated incident," as the base commander here described them, and a terrorist attack is becoming increasingly real as more information emerges about alleged perpetrator Maj. Nidal Malik Hasan.
Major Hasan's antiwar statements and his deepening grudge with the Army over its refusal to discharge him led many analysts to suggest initially that last Thursday's attack was the act of a desperate and perhaps mentally ill individual. On Monday, Lt. Gen. Robert Cone, the Fort Hood commander, called the rampage, which killed 13 people and wounded 29, "an isolated incident."
But emerging connections between Hasan and a radical Muslim cleric, echoing reports from US intelligence officials that Hasan had attempted to contact "people associated with Al Qaeda," are fueling speculation within the government that the attack is in fact an act of terror aimed at the heart of a US military poised to further ramp up operations in Afghanistan.
If it turns out that Hasan had political motivations for his brutally precise attack on fellow soldiers at the Fort Hood Soldier Readiness Processing Center, then the rampage would qualify as the biggest terrorist attack on US soil since 9/11, Sen. Joe Lieberman of Connecticut, an Independent, said Sunday.
---