Water on the moon: Eureka! They've found it!
NASA's sampling of a plume of material from a dark crater turns up water on the moon – and other organic compounds, too.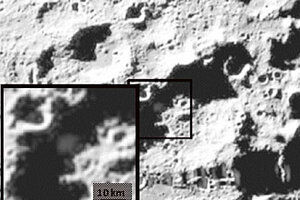 NASA/AP
NASA's mission to crash a rocket into a crater to find water on the moon found it – and much more.
Scientists with NASA's LCROSS mission, which sent an impactor hurtling into Cabeus Crater on Oct. 9, say their results turned up a significant amount of water in the plume of material the crash kicked up.
The team is still trying to come up with an estimate of the water content of the spot the spent Centaur upper stage struck. The collision generated a plume roughly six miles across. LCROSS's instruments could sample only a tiny part of that plume. But within that tiny field of view, the team detected nearly 27 gallons of water – either as water vapor or ice grains.
"That's probably a lower bound on the total amount of water we've seen here," says Anthony Colaprete, project scientist for the mission.
The excitement over finding potentially significant amounts of water centers on water's value as a resource for explorers – either to drink or to split in to oxygen and hydrogen for rocket fuel. It's also revolutionizing humanity's understanding of its familiar neighbor – shifting the picture from a geophysically dead object to one that is "very complicated, very dynamic, and very fun to study," says Dr. Colaprete. "It's not just about water anymore."
The data also harbor tantalizing evidence of what appear to be carbon-based compounds in the ejected material. These may include carbon dioxide, methane, ethanol, and other organics. While the team hasn't had time to sort through those data yet, the researchers say the chemical fingerprints their spectrometers picked up look strikingly like those from ancient, icy bodies in the outer solar system.
---