Shuttle launch: Atlantis readies for liftoff
Monday afternoon's shuttle launch will take the Atlantis's six-member crew on a 10-day mission for maintenance and construction work on the International Space Station.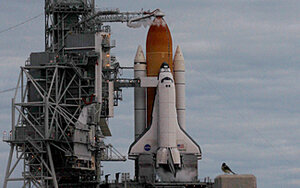 Scott Audette/Reuters
The space shuttle Atlantis – carrying a crew of six and some 14 tons of supplies for the International Space Station – is scheduled for launch Monday afternoon at 2:28 p.m. Eastern Standard Time.
During their 10-day mission, the six-member crew is scheduled to conduct three spacewalks. The tasks include attaching the cargo pallets with their spare components the outside of the space station. They'll also continue with maintenance and construction-related jobs, such as installing a wireless video system that will relay video from spacewalkers' helmet-cameras to crewmembers inside the station as well as controllers on the ground.
The smaller crew size, shortened mission length, and the type of cargo highlight how close the space station is to the end of its construction phase, and how close the shuttle program is to its swan song. The last station module scheduled for delivery, "Tranquility," is set to launch in February. It will house a COLBERT treadmill and sport a multi-window cupola. The final shuttle launch currently is scheduled for September 2010.
Recent missions have kept the shuttle docked at the station for 10 or 11 days, and astronauts have conducted four or five spacewalks. From that perspective, "it looks like we're kind of slacking off a little bit now," acknowledges Michael Moses, the launch-integration manager for the shuttle program and chairman of the mission management team. But those missions, he adds, were anything but normal.
"We're a victim of our own success. We make the five-EVA missions look real easy, so a three EVA mission must be a piece of cake," Mr. Moses says, referring to extra vehicular activities or spacewalks.
Still, he adds, "This is an extremely important mission."
---