Army Corps liable for Katrina damage, US court finds
Army Corps' 'myopic' maintenance of a shipping channel led to levee failure, much Katrina damage, US court judge rules. Appeal is expected.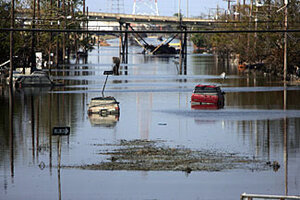 Newscom/File
Confirming what many New Orleanians already knew in their hearts, a federal judge ruled late Wednesday that the Army Corps of Engineers – and thus the US government – is liable for a big chunk of the damage caused when hurricane Katrina pushed ashore on Aug. 29, 2005.
The landmark ruling awards $719,000 to four plaintiffs from the city's Lower Ninth Ward and neighboring St. Bernard Parish who filed suit in 2006. The only such liability suit to actually reach a courtroom, the so-called "Mr. Go" ruling (after a shipping channel in the area) opens the floodgates for a raft of new litigation from as many as 100,000 other residents.
More important, the ruling – which called the Army Corps "myopic" in its maintenance of the Mississippi River Gulf Outlet canal (aka Mr. Go) – now puts pressure on President Obama to help the region settle claims that could reach into the billions of dollars. (Without a court judgment, the Bush administration had refused calls for a settlement.)
At the beginning of the trial this summer, US District Court Judge Stanwood Duval asked, "You all know what this is about: ... What did the Corps know, when did it know it, and when should it have known?"
---