Tiger Woods 911 call released, Woods refuses to talk to police
The Tiger Woods 911 call offers a glimpse of the night of the accident, but Woods said in a statement Sunday that he wants to keep the accident a 'private matter,' so he won't talk with police investigators.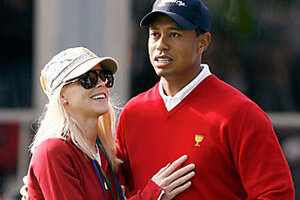 Matt Sullivan/Reuters/File
Florida police released the Tiger Woods 911 call Sunday, as Mr. Woods, for the third time in as many days, rebuffed police seeking to investigate the one-car crash that left him unconscious Friday morning.
The 911 call is a static-filled, disjointed conversation in which an anonymous neighbor says he found an apparently unconscious man – never named as Woods – on his front lawn. (Read the transcript here, hear the audio here.)
Woods did address the controversy publicly for the first time, though, with a 180-word statement on his website Sunday. He said the "embarrassing" situation was "his fault," and that his wife, Elin, acted "courageously." Police had said earlier that she used a golf club to break a window of the Cadillac Escalade to remove him from the car before police arrived.
Police said the Escalade hit a fire hydrant and a tree in Woods's neighborhood, causing $5,000 to $8,000 in damage to the car. The air bags did not deploy, suggesting the vehicle was not going fast, and, in their preliminary assessment, police did not believe alcohol was involved.
---