Catalina bison get birth control to keep numbers down
Conservationists on Catalina Islands, off the coast of southern California, are experimenting with birth control injections to control the wild bison population.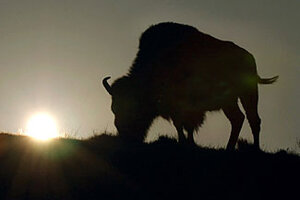 Randy Pench/The Sacramento Bee/Newscom
Fourteen majestic, shaggy bison were brought to this windswept island southwest of Los Angeles for a film shoot in the 1920s. Left behind, they multiplied to 600 by the 1960s, causing havoc to delicate plants, rolling and tramping vegetation and other protective barriers that keep deer away from threatened ironwood trees.
Now, conservation authorities are experimenting with birth control methods to keep the herd on this 22-mile long island under control. It's an approach that some animal activists say should become the model for managing wild animal populations the world over.
The idea involves annual injections of a wildlife contraceptive called porcine zona pellucida (PZP). It can be used on populations ranging from feral cats to wild stallions and urban deer.
"This is an effective, humane and cost effective way to manage not all, but many wildlife populations," says Jay Kirkpatrick, director of ZooMontana's Science and Conservation Center in Billings, Mont., a consultant on the project.
Charged with managing 88 percent of the island, the Catalina Island Conservancy has had some public relations disasters in the past, most notably when it hired sharpshooters to shoot goats and pigs from helicopters in an effort to cull their populations. The conservancy later began sending bison to Indian reservations in South Dakota.
---