Seattle police ambush: cop-killing rampages up this year
Sunday's police ambush near Seattle was the fifth shooting in which more than one police officer died. The 15 officers killed this year in multiple-shooting incidents is the highest since 2000.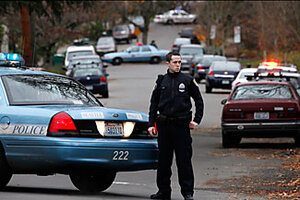 Elaine Thompson/AP
Sunday's shooting deaths of four police officers in suburban Seattle is the fifth such attack on law enforcement this year, adding a grim chapter to a year in which the number of shooting deaths of police officers nationwide is up.
In total, 15 officers have been killed in multiple-shootings incidents, up from four in 2008 and the most since 2000. Meanwhile, 44 officers total have been shot and killed in 2009, compared with 37 during the period last year – an increase of 19 percent.
This comes as police fatalities overall have dropped – from 122 on this date in 2008 to 113 this year, according to the National Law Enforcement Officers Memorial Fund (NLEOMF). The decline is the result of a drop in traffic accidents, which is the largest cause of officer death, says NLEOMF spokesman Kevin Morison.
Yet the multiple shooting incidents this year are causing alarm in the law enforcement community.
"It certainly is cause for concern to see these numbers," says Mr. Morison. "Policing remains an increasingly dangerous job and people are out there who remain intent on targeting officers."
Other incidents in 2009
• In March, four Oakland, Calif., police officers were shot and killed in a gun battle with a parolee.
---