Indian land trust abuse and the woman who finally got US to pay up
Elouise Cobell persisted 13 years in her case against Indian land trust abuse by the US. Now the Obama administration is set to pay $3.4 billion to rectify the century-old problem.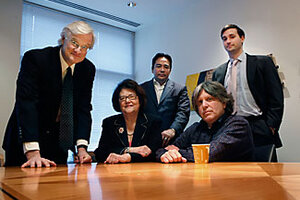 Gerald Herbert/AP
This week's landmark settlement on behalf of as many as 500,000 native Americans, in which the US agreed to pay $3.4 billion to right a century of wrongs that cheated Indians out of the proceeds from their properties, took 13 years, countless lawyer hours, and the persistence of one Elouise Cobell.
A Blackfeet Indian who worked as a banker, Mrs. Cobell is the original plaintiff in a lawsuit that claimed the US government for generations failed to pay royalties, totaling tens of billions of dollars, for mineral and grazing leases on land it held in trust for native Americans and tribes.
The settlement falls short of what she and others say is owed native Americans, but it is nonetheless the biggest class-action Indian award ever against the government, according to Attorney General Eric Holder. Cobell has called her suit "the largest case of fiscal mismanagement on behalf of citizens in US history."
"Elouise represents the best in all of us. We're talking about a single individual from rural Browning, Montana, who took on the full power of the US government and won," her attorney, Dennis Gingold, said in a phone interview Wednesday. "It is a story of epic proportions, and in my 35 years as a lawyer, her demand for justice is unparalleled."
'She never backed down'
---