Snow storm: East Coast races to save Christmas (shopping)
Buried by a major snow storm, East Coast cities are mobilizing all their resources to clear streets for Christmas shopping.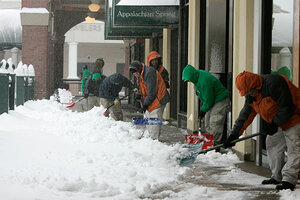 Steve Helber/AP
Battalions of salt trucks and snowplows maneuvered through an East Coast snow storm this morning with one mission: Save Christmas! (Or at least the Christmas shopping season.)
The prospect of socked-in consumers playing in the snow instead of braving slippery roads to head to the mall helped to mobilize civic leaders in places like New York and Washington, which were facing more than one foot of snow at perhaps the most critical time for beleaguered retailers trying to weather something altogether more severe – a major recession.
With the National Weather Service warning of "extremely treacherous travel conditions" across much of the mid-Atlantic and New England, city leaders promised a counterattack.
"All indications are this will be a major storm – perhaps the biggest we've seen in several years," said Washington Mayor Adrian Fenty, who dispatched 330 trucks Saturday morning to scrape and salt the streets. "We are going to throw everything we have at it to keep the District open for business on this busy preholiday weekend."
The early-season storm is the biggest in at least six years to hit Washington, and it augurs a snowy season for usually snow-bereft mid-Atlantic and Southern states.
Outlet malls affected most
That's good news for ski areas and school kids, but couldn't have come at a worse time for outlet chain stores like Bon-Ton, DSW Shoe Warehouse, and Kohl's, Inc., where entrances are often exposed to the weather, according to the Boston Globe.
---