Sean Goldman case highlights rising international child abduction
The Sean Goldman case, which resolved Tuesday when a Brazil judge ordered the boy to be returned to his American dad, is one of a sharply rising number of international child abduction cases in the US.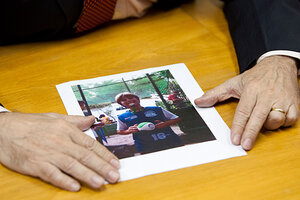 Felipe Dana/AP
The Brazil abduction and custody case over 9-year-old Sean Goldman spotlights the growing problem of international child abduction, say specialists in international divorce and custody, one that needs to be addressed with more laws and greater parent precautions.
The number of case of children being abducted from the US and taken abroad has increased dramatically since 2007, according to the latest data available from the US State Department's Compliance Reports on the Hague Convention on international child abduction. More than 1,000 new cases involving 1,615 children abducted from the US by a parent were reported in FY 2008, compared with a little over 500 cases involving 821 children in FY 2007.
Abductions from other countries also rose, with almost 500 children reported abducted from foreign countries and brought to the US last year. Divorce lawyers in cities such as New York and London are also noting an upswing in international clientele.
One reason "international child abductions are on the rise is that it is fairly easy to accomplish in the United States," says Chris Schmidt of the US law firm of Bryan Cave LLP. "In the United States, one parent can leave the country with a child without the consent of the other parent." By contrast, many other countries such as China and Argentina require an official document giving permission of the parent who is not traveling before minor children can travel abroad with only one parent.
---