Oil prices top $78 a barrel - double the cost of a year ago
Cold temperatures have boosted demand for home heating oil. Higher oil prices pose another challenge for the American consumer.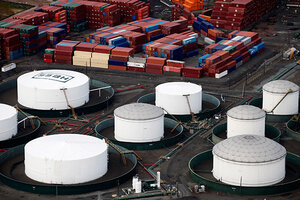 Mark Lennihan/AP/File
Energy traders are blaming the cold weather for a late-year rise in the prices of crude oil and natural gas.
Yes, the freeze that has extended from the Midwest to the mid-Atlantic states is helping to boost demand for anything that takes the chill out of the house.
The result: Natural-gas prices have soared 78 percent in the past 30 days, and even home heating oil is up 2.5 percent. The price of a barrel of oil is now more than $78 – about double the price of a year ago.
Rising energy costs hit consumers directly in the pocketbook. Most Americans have to spend money to drive their car and heat their homes.
"Energy is a major expense, especially this time of the year," says David Wyss, chief economist for Standard & Poor's in New York. "We're looking at substantially higher costs for the average American."
Through November, the overall price of energy, as measured by the Consumer Price Index, is up 7.4 percent this year. But some components of the energy mix are up much more. For example, the commodity component, which includes fuel oil (to heat homes) and gasoline, is up 20 percent. According to AAA, the price of a gallon of gasoline is $2.58, compared with $1.65 a year ago.
"The rising energy cost is about $70 billion out of our purchasing power," Mr. Wyss says. "While it's not like [the summer of 2008] when gasoline hit $4 a gallon, it's a lot of money – about half the amount of the proposed new stimulus bill."
---