Not Tiger Woods: Important stories from 2009 you may have missed
Barack Obama and Tiger Woods dominated headlines in 2009. Here are some vital news stories that didn't get as much play.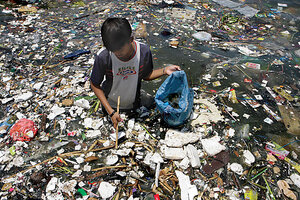 Reuters
From Barack Obama's inauguration to the implosion of Tiger Woods's image, 2009 has been a big year for news. So big, in fact, that the top stories may have drowned out other important items. Here are a few you may have missed amid the cacophony of the media's daily tweets, video clips, and texts.
The flotilla of plastic bits. Climate change is a foreboding problem, but scientists are watching other dangers to the environment, too. Many worry about the "Great Pacific Garbage Patch," a giant collection of floating debris, largely plastic fragments, trapped in a swirl of ocean currents near Hawaii, about midway between Japan and America's West Coast.
The Scripps Institute of Oceanography in August sent a 30-person team to study the effect of the patch on marine life. The UN Environment Program has issued a report on the global problem of marine litter and called for a ban on what it terms "pointless thin-film plastic bags."
Bonus track: In October, the United Nations named Tinker Bell, the forest fairy from "Peter Pan," as its "Ambassador of Green."
---
Follow Stories Like This
Get the Monitor stories you care about delivered to your inbox.