Is Al Qaeda's new terrorist strategy making the US less secure?
Obama outlined his tougher security measures in the wake of the Christmas Day bombing attempt. But terrorist-related incidents in recent months raise questions about their adequacy.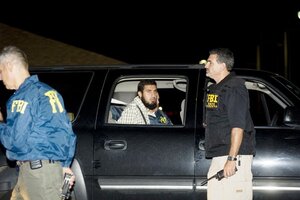 Chris Schneider/Denver Post/AP/file
President Obama has been lauded for quickly and directly addressing the attempted Christmas Day bombing of the Northwest Airlines passenger jet headed for Detroit. Even most Republican comment has been muted in its criticism.
But taking personal responsibility for US intelligence agencies' failure to detect and prevent an alleged attacker from nearly setting off an explosion, and promising tougher security measures against high priority threats, has not lowered the level of concern among terrorism experts and the public.
Taken together, recent incidents – the Christmas Day airliner bombing attempt by a Nigerian man officials say had Al Qaeda training in Yemen, the arrest of three men in New York alleged to have had weapons training in Pakistan, the Al Qaeda double agent and suicide bomber who killed seven CIA operatives in Afghanistan, the killing of 13 people in a November attack at Fort Hood, Texas, the arrest of a Chicago Pakistani-American charged with conspiring to help Lashkar-e-Taiba, a Pakistan-based terrorist organization responsible for the November 2008 attack on Mumbai that killed 170 people – may point to a new phase in what has become the main threat to US security since 9/11.
---