Snow in Florida: Big chill culling unwanted iguanas and pythons
The more pythons gone the better, says a Florida wildlife official. But snow and unusual cold are also straining survival of native species like sea turtles and snook in the tropical Sunshine State.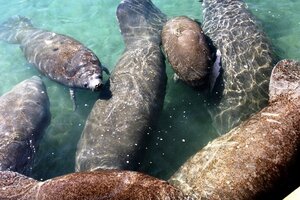 Gary Coronado/The Palm Beach Post/AP
An extended cold stretch gave way Saturday to what early Floridians called an "extraordinary white rain" – snow to the rest of us – as state wildlife biologists reported frozen iguanas falling out of trees, shallow water fish like snook dying in droves, and a record number of rare sea turtles facing the reptile version of hypothermia in St. Joseph Bay and the Mosquito Lagoon area.

The rare snow fall – only the 17th such event in modern history to ever hit the state in January – only highlighted the unusually long-lasting dip of Arctic air and its impact on both native and invasive species in the largely tropical landmass draping off the southern United States.

"A cold-stunning event of this magnitude is very infrequent," says Jim Squires, general manager of the Georgia Sea Turtle Center on Jekyll Island, which has taken in 10 cold-stunned sea turtles from Florida in recent days.
Hundreds of turtles rescued
Turtle rescuers worked around the clock, gathering over 700 passed-out turtles by Saturday and putting them in heated tanks at zoos and wildlife centers around the region to revive.

But if the extended cold threatened rare native species like turtles and the Florida manatee, it may also function as nature's way of targeting invasive species that Florida wildlife officials, frankly, want to see gone from the state, and which have been causing a political stink for years.

In fact, the cold has given wildlife officials backup in their fight against two species that came uninvited to Florida: the green iguana and the Burmese python.

Officials have one message to residents who feel sorry for frozen-stiff iguanas: Don't try to rescue them by wrapping them in towels and bringing them inside. (As "iguana girl" does.)
---
Follow Stories Like This
Get the Monitor stories you care about delivered to your inbox.