Harry Reid: racist or political realist?
Critics are calling Senate majority leader Harry Reid racist for suggesting in 2008 that Obama was electable because he was 'light-skinned' and had 'no Negro dialect.' Republican National Chairman Michael Steele says he should resign.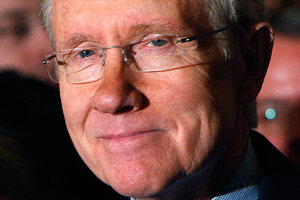 Jim Young/Reuters
Critics of President Obama – Republican National Committee Chairman Michael Steele foremost among them – see no small amount of hypocrisy in Mr. Obama's forgiveness of Senate majority leader Harry Reid.
Senator Reid is quoted in a new book by two journalists about the 2008 campaign, "Game Change," as saying privately that the US would be "ready to embrace a black presidential candidate, especially one such as Obama – a 'light-skinned' African American 'with no Negro dialect, unless he wanted to have one.' "
When the quotes came to light Saturday, Reid apologized to Obama, and Obama accepted. Mr. Steele and others say that is political relativism, with Democrats evading punishment for comments that would have sunk Republicans.
Reid's importance to healthcare reform speaks to the political expediency of forgiveness – Obama has had few more earnest or effective allies on Capitol Hill. Yet some black commentators have a different take: For them, what Reid said is not all that shocking.
---