Big risks in Obama's bid to boost Martha Coakley for Senate
President Obama will come to Massachusetts Sunday to help bolster Martha Coakley, the Democratic nominee for the US Senate seat formerly held by Ted Kennedy. But the move could help challenger Scott Brown.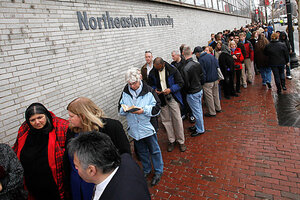 Michael Dwyer/AP
President Obama's decision to wade into the race for Massachusetts' open US Senate seat, attending a campaign rally for Democratic candidate Martha Coakley in Boston Sunday, is not without risk – for both him and for Ms. Coakley.
The visit could give Democrats a moral boost, underscoring the conviction that the US Senate seat held by the late Sen. Edward Kennedy is a matter of national importance, says Dan Payne, a Democratic media consultant based in the state.
"On the other hand, it may be that Obama represents what independents don't like about Washington right now," he adds.
For Mr. Obama, Democrats' filibuster-proof majority in the Senate is on the line – the 60-seat majority that would allow Senate Democrats to pass healthcare and energy reform without any support from Republicans. Without passing these signature bills, the Democrats could have few major accomplishments to tout in the midterm elections this November.
---