El Nino prime culprit for severe weather in California
Three days of severe weather, including mudslides and flooding, is largely courtesy of El Nino, say meteorologists.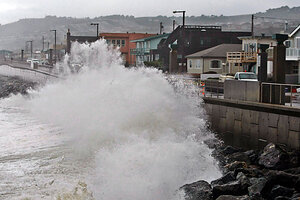 Paul Sakuma/AP
A storm system that has battered California for three days, flooding streets and triggering mudslides, is now aiming at Arizona.
This bout of bad weather, say meteorologists, is largely courtesy of El Niño, which is expected to influence the jet stream throughout the winter months.
In southern California on Wednesday, the third storm in three days brought high winds and continuous rainfall, prompting authorities to issue flash-flood and high-wind warnings. In the north, some 30,000 people lost power, and the state's highway patrol reported numerous mudslides along roadways.
On Thursday and Friday, Arizona is expecting as much as four feet of snow in the northern part of the state and heavy rainfall in the center. And Nevadans should prepare for flooding later this week, officials in Las Vegas said. That city was pummeled with heavy rains Tuesday.
"It's going to be a big one," says Darren McCollum, lead forecaster in Flagstaff, Ariz., for the National Weather Service.
While it's difficult to pinpoint what's responsible for a batch of severe storms, many are pointing their finger at El Niño.
---