Abortion in spotlight with Roe v. Wade anniversary, Kansas trial
The trial of a man charged with killing an abortion doctor in Kansas opened Friday on the anniversary of the Roe v. Wade ruling on abortion rights. A precedent could be set if the defendant is allowed to argue he believed deadly force was needed to save the lives of unborn children.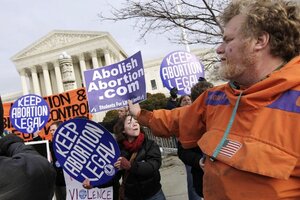 Pablo Martinez Monsivais/AP
The 37th anniversary of Roe v. Wade, the 1973 US Supreme Court ruling that legalized abortion, coincided Friday with the opening of a trial that could redraft how people who kill abortion providers are prosecuted.
Scott Roeder admits to shooting Wichita, Kan., doctor George Tiller in the foyer of a church on May 31, 2009. Dr. Tiller, one of the few in the country to offer late-term abortions, was a hero to the abortion rights movement; he aggressively fought back against those who sought to shut down his practice, both in court and on the sidewalk of his clinic.
Mr. Roeder may face a lighter sentence than might be expected for the crime he is charged with – first degree murder, which carries with it life in prison. That's because Sedgwick County Judge Warren Wilbert is allowing Roeder's defense team to argue that Tiller's killing be considered voluntary manslaughter, which in Kansas is defined as killing with "an unreasonable but honest belief that circumstances existed that justified deadly force."
Murder vs. voluntary manslaughter
---
Follow Stories Like This
Get the Monitor stories you care about delivered to your inbox.