Oregon voters raise taxes on wealthy, businesses
Oregon voters Tuesday approved Measures 66 and 67 that would raise taxes on the wealthy and on businesses. The vote suggests Americans may be willing to accept some types of tax hikes even in these hard times.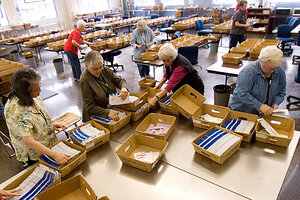 Don Ryan/AP
Voters in Oregon have sent a signal: Some tax hikes can win popular support even amid a deep economic downturn.
Ballot counting Wednesday showed that, by a roughly 54-to-46 margin, Oregonians supported two measures, one raising income taxes on top brackets and the other raising taxes on business.
The outcome on Measures 66 and 67 doesn't mean that Americans generally are in a mood to raise taxes. But it could signal acceptance of at least one tax boost supported on the national level by President Obama – higher levies on people earning more than $125,000 (or $250,000 for households).
Many states, and the federal government, are facing budget squeezes in the wake of a recession that has pushed up demand for unemployment insurance and other programs while also eroding the stream of tax revenue.
Oregon is a state where voters have often struck down tax hikes in the past, but also one that generally tilts Democratic. It also offered a rare window on public opinion, since it was voters themselves who approved the hike. In some other states, legislatures have opted for similar measures in the past year.
The fiercely fought contest pitted one compelling message – "stop job-killing taxes" – against another – that state residents would see big cuts in government services if the $727 million two-year taxes were defeated.
"Our 'yes' vote says that Oregonians will stand up and protect the foundations of our community – our schools, our health and human services, our public safety system," said Charles Sheketoff, executive director of the Oregon Center for Public Policy, following Tuesday's referendum. "Oregon voters showed the country how to put a state on a sound fiscal path to recovery."
But critics warn that the policy will hurt job growth.
People making more than $125,000 aren't necessarily synonymous with "the rich." Many are entrepreneurs or small business owners – people who aren't necessarily wealthy but who create jobs. Now they could move out of state – or be reluctant to move in.
---