Obama's budget would scrap NASA's moon mission
President Obama's budget for NASA seeks to end its back-to-the-moon program, rely more heavily on private companies, and invest in new technologies for human space exploration.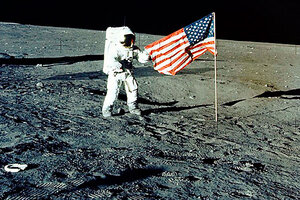 NASA / Reuters / File
The Obama administration Monday unveiled a 2011 budget request for NASA that would change the agency's approach to human spaceflight.
The White House has redlined the agency's flagship Constellation program, which includes building a replacement for the space shuttle to allow astronauts to reach low-earth orbit, a second more-powerful rocket, and modules for a moon base.
Instead, NASA would rely on private-financed rockets built by commercial launch companies, to ferry astronauts and cargo to and from the International Space Station.
The administration is asking for $19 billion for NASA for fiscal 2011, which is a 1.5 percent increase over the budget request in 2010. By 2015, the administration anticipates a NASA budget of $20.99 billion.
The budget proposal would extend US involvement with the space station by some five years to 2020, and perhaps beyond. It seeks billions for research and development aimed at new types of rocket motors and other elements needed to build larger, more powerful rockets than the US currently lofts, as well as capabilities for storing and transferring rocket fuel on orbit.
The goal is to develop what NASA official call "transformative" technologies for human exploration beyond low-Earth orbit.
The budget request follows virtually chapter and verse one of five families of options set out by the Review of US Spaceflight Plans Committee (known as the Augustine Committee) last September.
---