Probe blames pilot errors for Colgan Air's Buffalo crash
Last year's Colgan Air crash in Buffalo, N.Y., was due to pilot errors and poor training, officials said Tuesday. The board is looking to standardize safety norms across large and small carriers.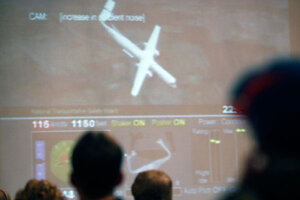 David Duprey / AP
Federal investigators Tuesday blamed pilot errors and poor training as key factors in the crash of a Colgan Air flight a year ago, which drew national attention to safety challenges facing small regional carriers.
The crash, which happened when the plane was near landing in Buffalo, N.Y., killed 49 people on board and one person in a house on the ground.
With the plane at risk of stalling on the night of Feb. 12, 2009, the pilot responded to a low-speed warning indicator by pulling the nose of the plane up – the opposite of what he should have done. The pilot continued to pull the plane up overriding automated controls designed to correct the error. The plane then stalled and crashed.
A hearing by the National Transportation Safety Board on Tuesday capped a year-long probe that focused not only on Colgan but also on wider safety concerns among regional airlines, which typically have less-experienced and lower-paid pilots. Often larger airlines have "code-share" agreements to sell seats on the regional carriers (the Colgan flight was also marketed under the Continental Connections name).
"We are looking for one level of safety," with standards that apply to large and small carriers alike, said Robert Sumwalt, an NTSB board member at the hearing.
Small regional carriers operate half of all flights in the US, accounting for one-fourth of airline passengers.
The captain of the Colgan flight, Marvin Renslow, had a spotty track record in certifications and proficiency checks going back almost two decades.
---