Obama's Kenyan aunt fights deportation, seeks US asylum
Zeituni Onyango, President Obama's Kenyan aunt, has been living illegally in Boston. She is fighting a deportation order, seeking US asylum based on tribal conflict in Kenya and a medical condition.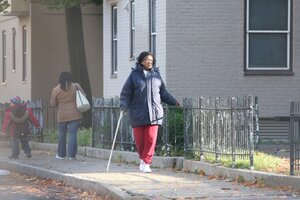 Newscom
In what could be a political embarrassment, President Obama's aunt – an illegal immigrant from Kenya – is seeking political asylum in the United States
Zeituni Onyango, 57, ignored a 2004 deportation order and has since lived illegally in a South Boston housing development.
Ms. Onyango created problems for the president in 2008 when she was discovered by the media just days before the November election. Although a series of controversies about Obama's exotic family background has quieted for the most part, Onyango's case again puts Obama – and the US – in a delicate position.
'It's a very political decision'
"It's a very political decision," says Michael Wildes, an immigration attorney and former federal prosecutor. "Political asylum cases are predicated upon a person's reasonable fear that they will be persecuted if they return to their home country. [Prosecutors are] going to want to make sure they don't establish a precedent with a country that we typically have good relations with by acknowledging that country is persecuting some of its own citizens.
"If the US grants asylum, there's going to be a political recoil," adds Mr. Wildes.
The White House said the president didn't know his aunt was living in the US illegally and that appropriate laws should be followed.
---