Obama's nuclear power policy: a study in contradictions?
Obama wants to triple public financing for new nuclear power plants, even as he nixes funds for storing commercial radioactive waste. The policy may be calculated to win votes for climate change legislation, but critics say it's not 'coherent' and carries new security risks.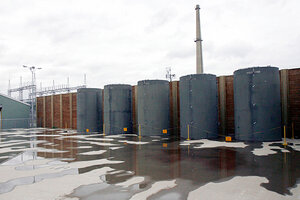 Toby Talbot/AP/File
President Obama has followed up on his support for "a new generation of safe, clean nuclear power plants," laid out Jan. 27 in his State of the Union speech, by proposing to triple public financing for nuclear power.
The Department of Energy recently proposed $36 billion in new federal loan guarantees on top of $18.5 billion already budgeted – for a total of $54.5 billion. That's enough to help fund six or seven new power plants.
It's a full-speed nuclear-power gambit that many say is largely a bid to win votes from pro-nuclear senators for legislation to address climate change. But his strategy is generating a firestorm of opposition, amid warnings that much more is at stake than a political calculus.
From environmentalists to fiscal hawks to nuclear security experts, the Obama plan is sparking near-open revolt. The nuclear-power expansion is not accompanied by any plan to store commercial radioactive waste, they note, and includes a new push by the Department of Energy into spent-fuel reprocessing and small "pocket nuke" reactor research, which they see as a proliferation risk. The Obama nuclear policy is at cross purposes to his nonproliferation goals, they add, and might even cement his energy legacy as the president who revived a moribund industry that hadn't built a nuclear plant in decades because of the financial, environmental, and security risks involved.
---