Super Bowl: three moments that changed the game
The New Orleans Saints beat the Indianapolis Colts 31-17 in Super Bowl XLIV by outplaying and outcoaching them at the key moments of the game.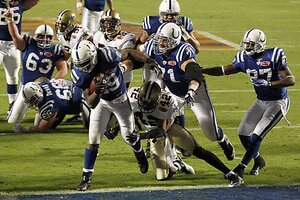 Scott Audette / Reuters
In a sense, the New Orleans Saints Super Bowl XLIV victory was closer than the 31-17 score would indicate.
For most of the game, Colts quarterback Peyton Manning marched the team down the field virtually at will. Colts running backs gashed the Saints repeatedly for large games. And until 3:12 left in the fourth quarter, the first overtime game in Super Bowl history seemed a distinct possibility.
But in all the most important ways, the game was a blowout. At virtually every key moment, the Saints outplayed and outcoached the Colts, and for that the Saints own a Super Bowl, a piece of history, and no small amount of joy for New Orleans.
Football is always a game of accumulated moments, but this Super Bowl in particular resolved itself into a collage of three plays and decisions that decided the title.
1. Conservative Colts
The Colts defense was hooting like Vikings, running up the field, arms raised and triumphant. On four consecutive plays from within their 10 yard line, the Colts defense had stuffed the most prolific offense in football.
With just under two minutes remaining in the first half and a 10-3, the defense was putting the ball in the hands of Manning – the master of the two-minute drill. In their two previous playoff games, the Colts had scored a gaudy 21 points in the last two minutes of the first half.
The ball was on the one yard line, but the Colts had already driven 96 yard earlier in the half for their only touchdown. It was the perfect opportunity to deliver a hammer blow.
---