Gas-pipe purging linked to seven big explosions since 1997
The cause of the explosion at the Kleen Energy natural-gas plant has yet to be determined. But a federal safety board had recently urged stronger safety codes for the process of gas-pipe purging, which was under way at the plant in Middletown, Conn.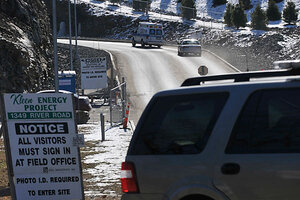 Richard Messina / Hartford Courant / AP
The purging of natural-gas lines is likely to be an early point of inquiry for federal investigators looking into Sunday's fatal explosion at a power plant in Middletown, Conn., given that the process is linked to at least seven major explosions since 1997 that caused numerous injuries and deaths, federal documents suggest.
Workers at the Kleen Energy Systems plant were reportedly purging gas lines at the time of the explosion, police and local officials told news outlets. Natural-gas lines are purged to remove air from the pipes before natural gas begins to flow through them, because air-fuel mixtures can be explosive.
Even before investigators from the US Chemical Safety Board (CSB) determine a cause, board officials have been working to persuade organizations that set safety standards to change safety codes governing gas-line purging nationwide.
"The CSB has no enforcement authority to make these changes," says Sandy Gilmour, a CSB spokesman. "It's an advocacy process."
Where to vent pipes
---