US urged new safety standards days before Middletown explosion
The US Chemical Safety Board, citing seven instances where workers died purging gas lines, released urgent new recommendations just three days before the Middletown explosion in Connecticut Sunday that killed at least five people.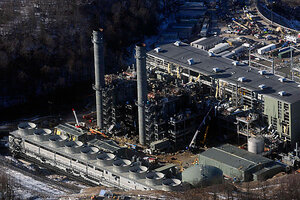 Bettina Hansen / The Hartford Courant / AP
Only three days before the massive explosion that killed at least five workers at a newly constructed natural gas plant in Middletown, Conn., the US Chemical Safety Board (CSB) issued urgent new recommendations on how to prevent explosions when handling or purging natural gas pipelines.
It is too soon to know what happened at Kleen Energy Systems. But workers at the site were reportedly purging a natural gas pipeline prior to the explosion.
In its documentation detailing why it was recommending new safety standards, the CSB cited incidents that show striking similarities to the Connecticut disaster. In at least seven incidents since 1997, workers have died and large-scale damage has been done to buildings as a result of pipelines being purged in an enclosed area.
"We have far more incidents in the database than the half dozen that we have listed," says Sandy Gilmour, a CSB spokesman. "The incidents listed were just the ones that jumped out to our investigators, because they were severe cases or because they could be documented."
---