Behind mid-Atlantic snowstorms: a rare weather pattern
Meteorologists see similarities between the weather patterns that have led to this winter's mid-Atlantic snowstorms and the Northeast's blizzard of 1978.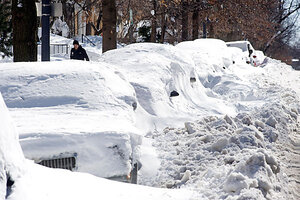 Cliff Owen/AP
The pounding of snow this month in the mid-Atlantic region is evidence of an unusual set of weather patterns that are similar to the February 1978 blizzard that buried New England.
"Up and down [the coast], it looks almost identical," says meteorologist Todd Crawford of Weather Services International. One difference between this year and 1978 is geography: Cities from Washington, D.C., to Philadelphia may be hit by their third snowstorm in two weeks, a significant difference from winter weather in New England, which so far this season has been relatively sedate. Still, says Mr. Crawford, climate factors "aligned this year in the exact same pattern" as the historic storm, which dumped nearly 30 inches of snow in cities such as Providence and Boston.
Three consecutive storms have more than doubled that amount. By Wednesday, cumulative snow mass in Baltimore reached 72.3 inches. Philadelphia has received 70.3 inches this winter, and Washington, 54.9 inches – breaking snowfall records for all three cities.
Snowfall in the Midwest has been comparatively mild. In Chicago, cumulative snowfall stands at 45 inches (about 10 inches more than normal), which meteorologist Scott Root explains is largely due to El Niño, the periodic weather pattern from the Pacific that this year split the traditional air flow from Canada into two separate streams, both bypassing the Midwest instead of going straight through it. This year's pattern, which Mr. Root, who operates WeatherBank, a meteorological consulting company, calls "relatively unique," is carrying both cold air from Canada and moisture from the South, the combination of which Root says is "causing all this snow" when both consolidate in the east.
---