High-speed rail: Stimulus dollars wisely spent?
President Obama's $8-billion investment in high-speed rail may be a giant step forward in the country's transportation system, but experts question if it will gain traction among car-loving Americans.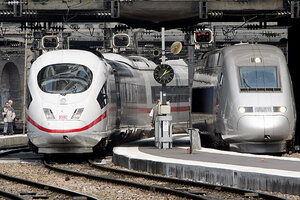 Michel Euler/AP/File
President Obama wants to put a multibillion-dollar down payment on a national high-speed rail network. But will Americans leave their bucket seats to ride those rocket rails in sufficient numbers to justify the investment?
For years, while the United States has focused on its highway and air-transport systems, passenger rail has been an afterthought. Now Mr. Obama has an Eisenhoweresque plan to spend $8 billion from the American Recovery and Reinvestment Act to build 13 high-speed rail corridors in 31 states. He also plans to budget an additional $1 billion each year over the next five years. Many say it's a needed "first step."
"Our most congested corridors have to have high-speed rail," says Jack Schenendorf, vice chairman of a blue-ribbon commission that studied America's transportation needs in 2008. "Obviously we can't build an unlimited amount of highway capacity. It's necessary to get people out of their cars and into these high-speed trains."
Who's riding the rails now?
Riders on Amtrak, America's pas- senger rail service, rose steadily from 21.5 million riders in 1999 to peak at 28.7 million in 2008. A weakening economy and lower fuel prices brought the number of riders down to 27.2 million last year, still the second highest in Amtrak's history.
Amtrak's Acela – connecting Boston, New York, and Washington – provides the only existing high-speed rail service in the US. It grew steadily through 2008 to 3.4 million passengers. But last year, ridership dropped below 2007 levels, partially as a result of cooling business travel.
---