Fights on public transit: Oakland bus fracas is latest flash point
A fight aboard a city bus in Oakland, Calif., is the latest fracas on public transit to be captured on video and disseminated on YouTube. Such images, rightly or wrongly, may heighten concern about the safety of public transportation in the US.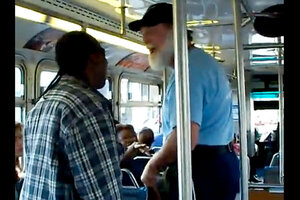 Youtube screen grab
A brawl Monday between a white and a black passenger aboard a city bus in Oakland, Calif., is the latest in a string of public transit fracases to attract public attention – and raise concern about safety.
Much of the shouting match and fistfight between the two men was caught on camera by a college student aboard the AC Transit bus and posted on YouTube, attracting a sizable audience and igniting something of an online debate about race.
Violent incidents seem to be dogging public transit in this city across the bay from San Francisco. Last year, a cellphone video captured an arrest in which a Bay Area Rapid Transit (BART) officer fatally shot an unarmed passenger. In November, a videotaped arrest of an unruly BART passenger was broadcast on YouTube, raising questions about the officer's conduct and giving the impression that public transit is not safe.
It's unclear what started the confrontation aboard the Oakland bus – or if either man has been criminally charged. It seems from the video, which is violent and full of foul language, that race may have played a factor.
The recording begins with an exchange between the black man and an older white man. Their exchange becomes heated when the white man asks, "How much you charge me for a spit shine?"
The black passenger responds: "Why a brother got to spit-shine your shoes?"
The confrontation escalates from there, ending with the black passenger injured and asking for an ambulance.
Sacramento's CBS 13 featured an interview with Iyanna Washington, a college student who caught the fight on camera.
---