Who is Joe Stack?
Joseph Andrew Stack, the software engineer being linked to Thursday's plane crash in Austin, left behind an anti-IRS, antigovernment Web manifesto.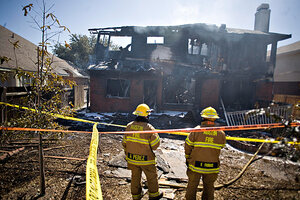 Thao Nguyen/AP
Since an airplane hit an Austin, Texas, office building Thursday morning, bits of information have begun to emerge about Joseph Andrew Stack, the man believed to have been its pilot.
What little is known of Mr. Stack, a software engineer in his 50s, comes from a note he published on his software company's website. The site has since been removed at the request of the Federal Bureau of Investigation. It lays out a personal history of financial ruin and levels complaints at the US government, its tax system, and healthcare. It ended with language suggesting its author would soon die and was signed "Joe Stack (1956-2010)," followed by Thursday's date.
"If you're reading this," the note begins, "you're no doubt asking yourself, 'Why did this have to happen?' The simple truth is that it is complicated and has been coming for a long time."
Stack attended a Harrisburg, Pa., engineering school in the 1970s and lived on "peanut butter and bread (or Ritz crackers when I could afford to splurge)," the manifesto reads. In school, it says, he developed an appreciation for independence and a distrust of "big business."
---