Report: Contamination from coal ash waste is worse than EPA says
Two environmental groups report that at least 31 cases of coal ash waste contamination in 14 states are not listed by the EPA. Dangerous chemicals include arsenic, selenium, and boron.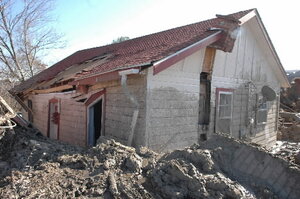 J. Miles Cary/Knoxville News Sentinel/AP
Coal ash waste contamination nationwide is far worse than indicated by a new Environmental Protection Agency tally, with dozens more ash-waste ponds and landfills also leaching toxins into streams and drinking water, a new study finds.
At least 31 "new damage cases" not listed by the EPA in its end-of-the-year tally of 70 coal-ash pollution sites are identified and their pollution profiled in a report released Wednesday by the Environmental Integrity Project and Earthjustice groups.
The groups identified the sites by assembling contamination data from state files using "similar criteria" to those sites the EPA had already identified, the report says. Arsenic, selenium, and boron were among the dangerous chemicals found to have "migrated off" nearly half of the 31 sites where coal-fired power plants store their coal ash.
Some drinking water contaminated
Contaminated water from coal-ash chemicals was found to be washing into streams and leaching into groundwater, including drinking water supplies. The sources were found to include many "dry landfill" and "structural fill" (areas where coal ash is seen as beneficial) ash impoundments, not just the wet retention-pond-type fills used by the Tennessee Valley Authority's Kingston plant, which spilled an estimated 1 billion gallons of sludge across 300 acres of rural Tennessee just over a year ago.
---