Despite outcry, Anthem Blue Cross to go ahead with big rate hike
The decision by Anthem Blue Cross to hike its California customers' insurance rates by up to 39 percent has sparked hearings in Congress and at the California State House. Obama and Democrats cited it at Thursday's healthcare summit.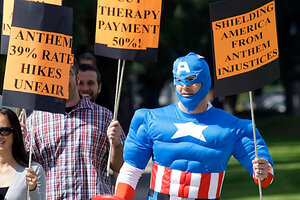 Damian Dovarganes/AP
Anthem Blue Cross, the health insurer that plans to boost rates by as much as 39 percent in California this year, has become a lightning rod in the national debate over healthcare reform.

In President Obama's healthcare summit Thursday, both Republicans and Democrats held up the company as an example of why the federal government needs to take steps to keep rising insurance premiums in check.

Of course, both sides differ on how to go about tackling that issue. See the Monitor's coverage of the summit here.

Over the past few days, however, Democrats have sought to turn rising anger over Anthem's rate hike into support for their healthcare reform legislation by highlighting the alleged excesses of Wellpoint Inc., the insurer's parent company.
Despite the outcry, the rate increase for Anthem's California customers who have purchased individual policies is expected to take effect May 1. It was delayed for two months to allow California regulators to review the hike to ensure it complies with state law.
---