Heavy snow blasts New York: Snowiest month in city's history
Heavy snow and high winds added up to a 'snowicane' in New York. After so many winter storms, one meteorologist says, 'I'm ready for spring.'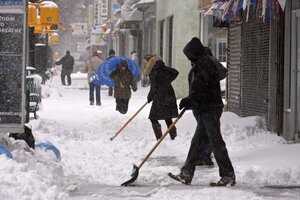 David Boe/AP
Late on Friday afternoon the sun finally came out over New York, illuminating the 21 inches of snow that fell on the city as a result of storm called a "monster" by meteorologists.
Around other snow-pelted areas around Big Slushy Apple, it was just as bad, if not worse. Harriman, N.Y., dug out from 32 inches of snow, West Milford, N.J., had 28 inches of snow, and Monroe, N.Y., had 31 inches. And, that's before the drifts, which some people said were seven feet high. (Monitor feature "This week in Weather" here.)
Yes, the storm, dubbed a "snowicane" by AccuWeather, lived up to its advance billing as it slowly moved offshore.
"The radar did show it with a hurricane-type eye," says Josh Nagelberg, a meteorologist for AccuWeather.com in State College, Pa. "It does have the signature of a tropical system, but obviously it is not."
Winds gusted to hurricane level
---